Elevate Through Sacred Play.
Hi! I'm RevMariela or Maestra Mariela
I'm a Conscious Creator, an explorer of consciousness, a teacher, and mentor to women in my community. I come from Yoruba and Taíno ancestry, and I teach people how to re-connect with the Divine, with nature, and with their own divine nature.
The Story that Guides my Life
Of all the stories I could tell you (from living half a century on this planet, from migrating and moving over 20 times, from befriending wildly diverse people and spiritualities from around the world) there's ONE story that I think would be of particular interest to you, and that is the story of how I lost my HOPE (existential depression) and how I found the light of divinity in a hopeless world, through my reconnection with the earth and the plant medicines the earth provides for us.

I'm committed to sharing this story so that others who are lost can also find hope in this "hopeless" world.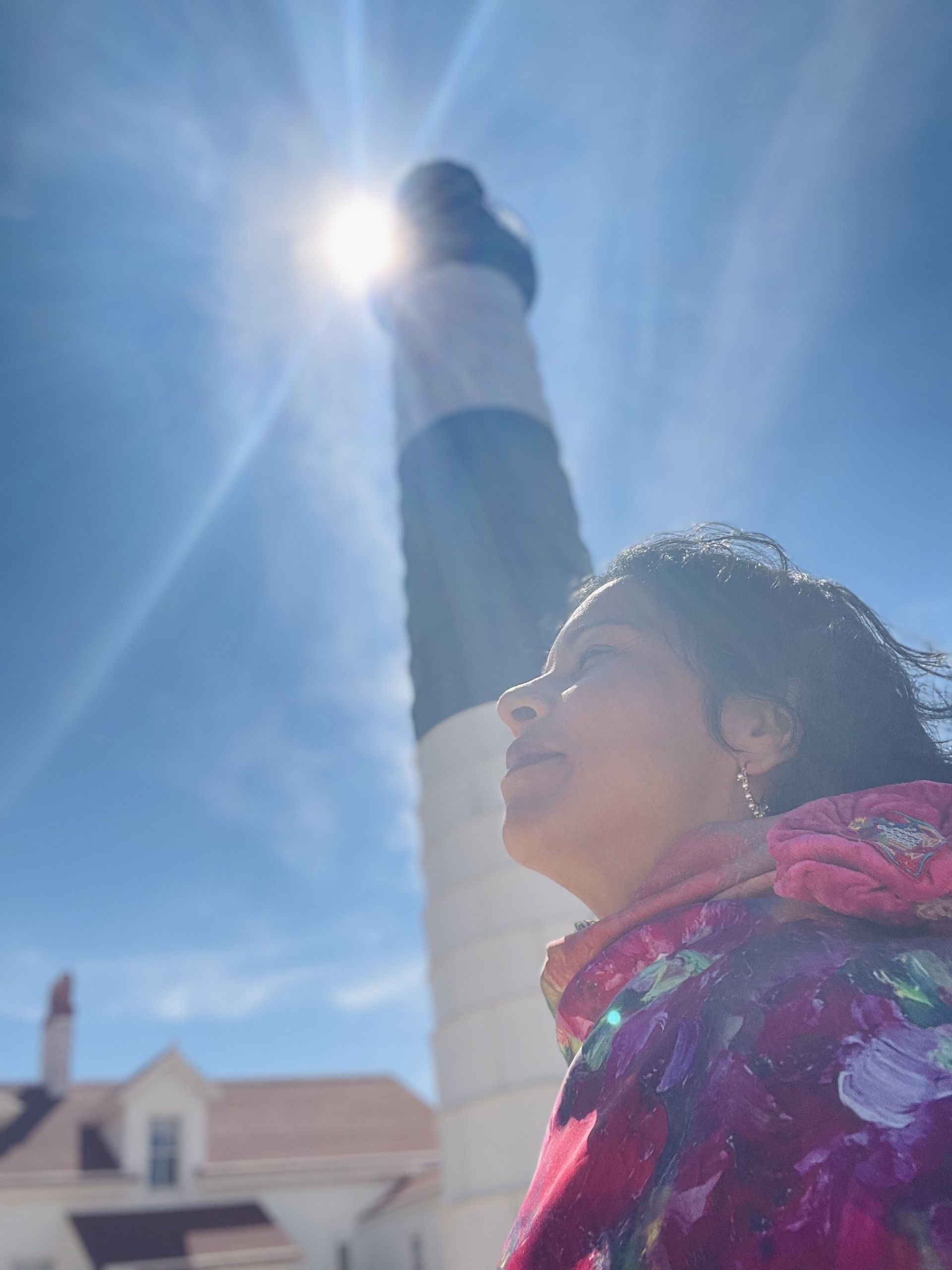 My life and my work are dedicated to telling this story (with words and deeds and colors and textures and sounds) so that others may find their own hope, their own North Star, their own lighthouse/guiding post.
As a very practical teacher, minister, and guide, I could never give you false hope. Why? Because in the depth of my depression false hope felt offensive. Yes, I'm a skeptical by nature, and I'm not going to believe just anything, and the part of me that was depressed, my existential despair, and my trauma had really good reasons to feel the way they felt, and they would only come out from The Underworld unless there was a SOLID reason, unless there was a solid HOPE; a hope with roots; it couldn't be shallow. And it couldn't be small either; it had to encompass others too. I wasn't interested in healing myself individually. What good does it do me to be healthy and happy when everyone around me is sick and miserable? I would have to be heartless, and that's not acceptable. So, no, the HOPE had to be all-encompassing.
So I kept looking.
And I found it!!!! A solid hope. I found the Magic (the synchronicities that even my skeptic self and my skeptic friends) could not deny.
Just like I found the patterns that led to my downfall and our collective downfall (meaning the patterns of separation brought about by colonialism and capitalism) I also found the patterns (personally and collectively) that bring about restoration, regeneration, and reconnection with the Earth & the Divine (which I call "The Magic" because it truly feels magical to me and to the people in my community who have also found it for themselves✨❤️‍🔥💖)
Basically I wanted PROOF (actual evidence) that it is possible to create healthier systems for ourselves, our families, and our communities; and I got it!
This brought me tremendous hope. Hope that healing ourselves and our communities is possible. Hope that there's something larger, something more loving, a larger intelligence, a sentient web of existential that encompasses all life. I call it The Benevolence of Life.
Hope is medicine, beloveds. Having a solid hope was what lifted me up (up the autonomic nervous system ladder) from despair to hope.
Love Letters from Our Community
#loveletters
"It's impossible to put into words the space and setting Mariela creates. From the moment I began my experience, I felt loved and cared for and safe. It's as if she can read your needs and even your wants as soon as they enter your mind- want a cozy blanket? It appears. Thirsty? Here's a special fruit infused water she's created... I felt Love and connection and safety and TRUTH. It's a life changing experience that I wish was available to all humans. ❤️💛🤍"
"Working with Mariela has been transformational in so many ways. Her intuitive wisdom is nothing short of magical and my sessions with her have brought light to darkness, awareness to unknowns, and most importantly, hope to the future. I highly encourage others to step into this work with openness and confidence for a better future. It is healing work and one of the very best gifts you can give to yourself and your love ones. You are not alone."
"When I first started working with Mariela I wasn't even aware of how much trauma I had experienced, or repressed, and just how dysregulated my nervous system was most moments of my life. I was using substances daily ... Five months after working with Mariela, I no longer need or use substances. My nervous system is regulated... She has helped me to return home to myself; develop a relationship with both the divine feminine and masculine; and access a river of peace and love that is always available within."
"Thank you SO MUCH for helping my wife empower herself. There is so much more peace and grace in our lives now. ❤️❤️❤️."
"Mariela, I'm in heaven... Thank you for SEEING me and guiding me during my journey. Thank you for holding me so beautifully. Thank you for loving me without conditions and for teaching me "The Way of the Mother," for modeling that so beautifully."
"I have found my most precious self. I feel so empowered, at the deepest level of my soul."
"I'm realizing the ways in which I wasn't truly alive and balanced. This is an opportunity to reset & come back to life."
Created with